Issues
LOHV-FL is currently working on two Florida ordinance issues. These issues are
Dog Tethering
and
TNVR (Trap, Spay/Neuter, Vaccinate, Return)
, also known as
TNR (Trap, Spay/Neuter, Return)
. The League of Humane Voters-FL is concentrating on getting legislation passed in our various local counties to deal with both of these issues.
Dog Tethering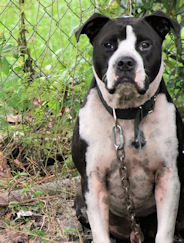 Subjecting a dog to life at the end of a chain is inhumane!
Alone, the dog pines for companionship and suffers from isolation. Initial periods of boredom and loneliness can later turn into territorial and aggressive behavior. According to one study, chained dogs are nearly three times more likely to bite than are dogs who are not kept chained. The lack of socialization creates fearful dogs who act quickly and fiercely to defend their territory from all intruders, including other animals, people, and small children.
Subjected to extremes of hot and cold weather, tormented by insect bites and heartworm-carrying mosquitoes, terrified of raging thunder and lightening storms, chained dogs cry for help. Relegated to yards out of sight of a guardian who may not care that the water bowl is dry or a food bowel is filled with ants, deprived of basic creature comforts such as the ability to move about freely, chained dogs suffer, year after year. Life on a chain is not living. Forcing a dog to live his or her life at the end of a chain is inhumane!
Here is a video made by Steve Markwell of the Olympic Animal Sanctuary about a dog named Alex, who has lived his life on a chain. This dog had become so aggressive, even his owner did not want to approach him. This video underscores the amount of psychological and physical stress that dogs undergo who are continuously chained. The change in this dog once he is off the chain is remarkable.
Due to a request from the current owner of Alex, this video has been removed pending verification of information. In the meantime, it has been replaced with a video showing mistreatment of dogs at various AKC registered shelters. This page will be updated once full information has been obtained.
As the video states, this does not mean that all AKC registered breeders are bad; most, in fact, are excellent. However, it does show that people purchasing a puppy should always inspect the breeding conditions first and be very wary if a breeder does not permit this.
What you don't know about chained dogs
About 6 million dogs (this is
not
a typo), 9% of the dogs in the U.S., spend most of their lives on chains, according to an
ANIMAL PEOPLE
analysis of data gathered by
Dogs Deserve Better
during a 12 day, 12-state dog census in April 2008.
The American Humane Association in August 1937 urged humane societies to prosecute people who kept dogs chained in isolation, and epidemiologist Jeffrey Sachs found in 1997 that about 29% of all children were killed or disfigured by chained dogs in the 10 years 2003-2012. Anti-chaining bills usually failed, however, until Dogs Deserve Better debuted in 2001.
Anti-chaining laws are now in effect in more than 150 cities and several states. That number is now higher due to the recent passage of "no unattended tethering" ordinances in many FL counties. A subsidiary, Mothers Against Dog Chaining, amplifies the voices of mothers whose children have been killed or injured by chained dogs.
We look forward to seeing Pasco, Hernando and Pinellas County also pass a "no unattended" tethering ordinance. Please contact us for more information you may need to make an informed, human and animal safety ordinance without loopholes for abusers.
Community cat TNVR (Trap, Spay/Neuter, Vaccinate, Return)

Outdoor cats have existed alongside humans for 10,000 years. Feral cats are not socialized to people. However, Feral kittens can be adopted.
TNR as a method of reducing feral cat populations has proven to be the way to reduce the severe overpopulation of community (feral) cats over time.
Catch and kill doesn't work
. Animal control's traditional approach for feral cats— catching and killing—is endless and cruel. Cats choose to reside in locations for two reasons: there is a food source (intended or not) and shelter. When cats are removed from a location, new cats move in or survivors breed to capacity. This vacuum-effect is well-documented.
Together, we can educate people about feral cats and the fact that they don't belong in pounds and shelters where they are killed, and spread the word that TNR is the humane approach for them.
Trap-Neuter-Return (TNR) does work
. TNR benefits the cats and the community. Cats are spayed or neutered, vaccinated, and ear tipped (the universal symbol of a neutered and vaccinated cat), and then returned to their outdoor home. The colony's population stabilizes—no more kittens! Trap-Neuter-Return improves their lives and improves their relations with the community—the behaviors and stresses associated with mating stop. TNR is the humane, effective approach for feral cats. It is also cost effective when it comes to Animal Service budget concerns.
TNR is currently under attack in Hillsborough County!
For additional information on this development, see the
Breaking News
page.
Humane Society of Tampa Bay. Used by permission.
How to implement TN(V)R — Trap, Spay/Neuter, (Vaccinate), Return
The following link is a two-part one from HSUS, showing Boris Kortis (who founded the Neighborhood cats) as well as other key people doing an excellent presentation. It is necessary for people to understand why we want to validate and pursue TNVR(trap, neuter, vaccinate, return).
http://www.youtube.com/watch?v=X-UKg2iK1Zk